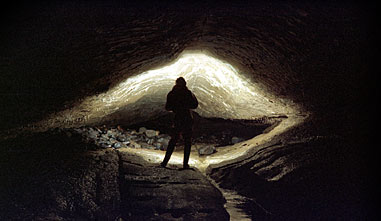 Ibbeth Perril Cave, North Yorkshire
Contemplating the long climb out of Alum Pot, North Yorkshire.

Cloud Chamber in Dan-Yr-Ogof Cave, South Wales

I first got interested in caving having visited some old slate mines in North Wales. I found the workings fascinating and was keen to find out more about them and explore them further. Once I started to research more about slate mines, I soon became interested in mine archaeology generally.
It soon became clear that to avoid an early death it was important to get some expert guidance on underground exploration. Strangely there seemed a dearth of courses and experts in West London, so 1979 saw me rolling through the Yorkshire Dales to Whernside Manor, the national caving centre, for their Mine exploration course. Seeing the glorious limestone landscape of the Dales and hearing tales of caving dare and do from other members of the course soon had me registered on a basic caving course.
I subsequently caved as often as I could in Yorkshire, South Wales and the Mendips. With a serious interest in photography, my cameras were soon underground too.

Pitch in Ireby Fell Pot.

Cave pearls in a Yorkshire metal mine.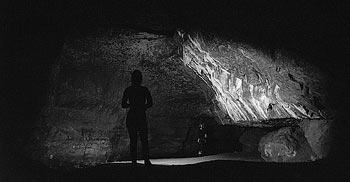 Duke st in Earby Fell Pot, North Yorkshire