EastEnders
Throughout 2013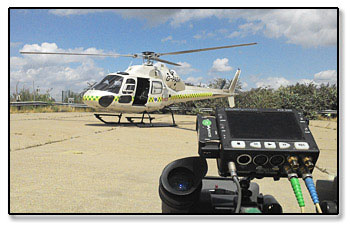 Waiting for take off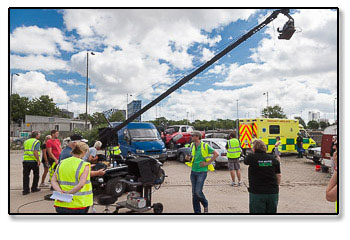 Shooting the resultant crash
Another interesting year working for the BBC at Elstree on EastEnders.
Although mostly shot in the studio and the outside lot set for Albert square, everyone enjoys the extra challenge on shooting away from base on location.
One of this year's big location shoots was a big car crash stunt, shot on location in South East London. Shot over two days in searing heat, it was a complex shoot.
A car chase through an industrial estate, climaxing when the car swerves and crashes through a fence onto parked cars, throwing the passenger, Phil Mitchell, though the windscreen; followed by the emergency services arriving and rushing people to hospital by air.
With the location extremely close to London City airport, the times our helicopter could be flown around the location were very tightly limited and scheduled with no opportunities for retakes.
The making of the stunt was shot for the BBC's own web site and you can see how it was done here.
Premiereship football
throughout 2013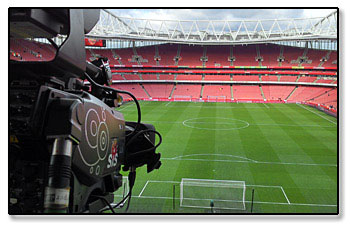 At the Emirates stadium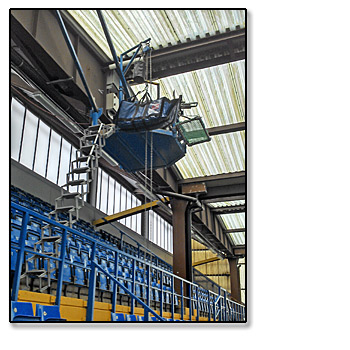 The high positions at Stamford Bridge
Go up before the crowd arrive, pull the ladder up and only come down after the crowd have left.
2013 saw me back working on even more Premiereship football matches than in recent years.
Whilst it might seem an exciting job where you just turn up and cover the match, most people outside TV don't realise how hard we work on football matches. Our day starts early in the morning when we have to carry all the camera equipment into the stadium and rig it. After checks to ensure everything is working correctly we then usually have to cover the teams arriving, interviews with players and managers, sometimes extra features for foreign broadcasters too. By the time kick off arrives we're usually glad of being able to just stay in one place and concentrate on covering the match.
When the match is over most of the crew are able to derig and put everything away, although there will still be a couple of cameramen involved in shooting post match interviews.
They can be long days.
6 Nations rugby
Spring 2013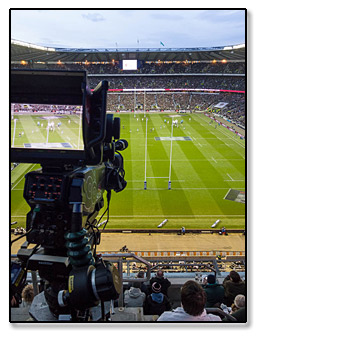 High behind the goal posts
Returning to Twickenham for the Six Nations Rugby tournament is always a highlight of the year.
The sell out games always have a fantastic atmosphere.
My camera position was high up behind the southern goal posts amongst the good natured crowd.
One of the interesting challenges of this position is not causing offence to the many people trying to give you drinks throughout the game. That doesn't happen at many other venues.
Other recent work
Throughout 2013

Whilst it's nice to be able to display some pictures of the programmes I've worked on, it's not always possible. So here a few other programmes I worked on this year.
Adobe digital marketing summit for Zest4TV

Giff Gaff at home for Eyetidy